Wicked Fall (The Wicked Horse Series Book #1) Sawyer Bennett
Release Date: July 28, 2015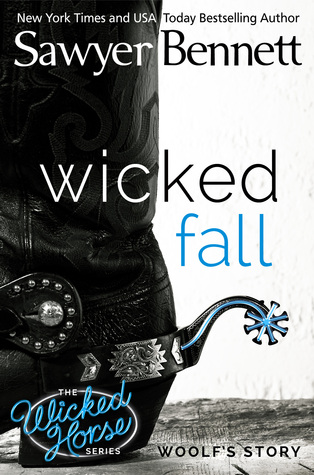 Never in your wildest dreams could you begin to imagine all the filthy and depraved things that go on inside The Wicked Horse. Step inside and Woolf Jennings will make every one of your dirty fantasies come true.
He's covered in a facade of deception. An enticing blend of multi-millionaire and hot-as-hell Wyoming rancher, those that think they know Woolf Jennings admire his abilities to preside as CEO of his family's cattle and oil empire. But only a privileged few truly understand what fuels the glitter of depravity in those gorgeous blue eyes. Only a few know he's opened up a sinfully erotic and private sex club named The Wicked Horse right at the base of the beautiful Teton Mountain range.
Sweet Callie Hayes has returned home to Wyoming and is looking forward to starting her life over again. After a night of impetuosity, she's managed to put herself right in Woolf's line of sight… the man who she foolishly offered up her virginity to years ago and was flatly turned down.
Now Woolf is seeing that Callie is all grown up and has a kinky side to her that leaves him as confused as it does turned on. Worse yet, both Callie's dirty desires and sweet heart are getting under his skin, and making Woolf question everything he's ever believed about himself.
My oh my! I do believe I need to find myself a cowboy! When I saw the cover, I knew I wanted this book. When I started seeing teasers, I knew I had to have it!
What worked for me:
~I love the sibling best friend crush trope. Woolfe was Callie's brother's best friend growing up. As you can probably guess, they both had a crush on each other. Reuniting after years apart, they can't fight their attraction.
~The secret side of Woolfe intrigued me. In fact, I wanted to dig even deeper into his reasons for his kinky preferences. Introducing Callie into his lifestyle was certainly fun to watch. Their chemistry is addicting!
~I think I fell even harder for the supporting characters than I did Woolfe! I can't wait to dig into Bridger's mind. And Cain...let's just say WOW and BRAVO for the epilogue! SIGN ME UP!
~The sexy times were pretty freaking hot! Bennett has certainly mastered the art of writing outstanding sex scenes! What grabs me in the sec scenes she writes though is the intimacy of the moment. It's more than just sex. The emotional connection that these characters share is what made them so hot for me.
What didn't work for me:
~There were a few parts that lagged a bit for me.
~The sacrifice he makes for Callie is understandable, but I think I would have liked to have seen him find a way to make it all work. And who knows...maybe he will.
Overall, this was a fun and definitely sexy read for me. Bennett is a go to author for me and I can't wait to see what she has in store for Cain!
(entries accepted until 11:59 pm EST on August 3, 2015)
New York Times and USA Today Bestselling Author, Sawyer Bennett is a snarky southern woman and reformed trial lawyer who decided to finally start putting on paper all of the stories that were floating in her head. Her husband works for a Fortune 100 company which lets him fly all over the world while she stays at home with their daughter and three big, furry dogs who hog the bed. Sawyer would like to report she doesn't have many weaknesses but can be bribed with a nominal amount of milk chocolate. Sawyer is the author of several contemporary romances including the popular Off Series, the Legal Affairs Series and the Last Call Series.
Connect with Sawyer:
Facebook:
https://www.facebook.com/bennettbooks
Twitter:
https://twitter.com/BennettBooks
Instagram:
https://instagram.com/sawyerbennett123/
Goodreads:
https://www.goodreads.com/Sawyer_Bennett
Sign up for Sawyer's newsletter:
http://sawyerbennett.com/signup/