Today I'm featuring Searching For Beautiful (Searching For, #3) by Jennifer Probst! Check out the "TATS, PIERCINGS, AND BAD BOYS GONE GOOD" special feature below and don't forget to enter to win an ebook set of the Searching For Series!
Thank you, Jennifer!
Searching For Beautiful (Searching For, #3) by Jennifer Probst
Adult Contemporary Romance
Amazon
:
Barnes & Noble
:
Kobo
:
iTunes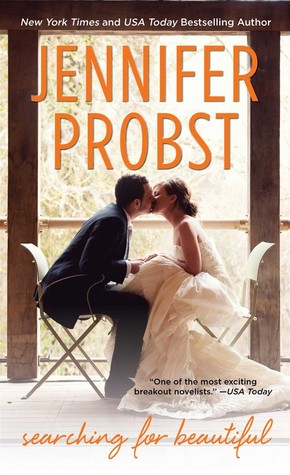 The highly anticipated third novel in the Searching For series from Jennifer Probst, "one of the most exciting breakout novelists" (
USA TODAY
), featuring a runaway bride and the man who wants to be more than just her best friend…
Genevieve MacKenzie has her life completely under control. About to wed the charming Chief doctor at the local hospital, she's an up-and-coming surgeon with everything she could ever want. Until an escape through the church window on the day of her wedding sends her life into a tailspin…and flings her right into her best friend's arms.
When Wolfe catches his best friend falling out a window on her wedding day, he doesn't ask questions. He whisks her away, determined to watch over her and discover the truth behind her desperate escape. But when his feelings turn more than platonic, he realizes he may risk his most important relationship in order to protect his damaged heart, and the woman he loves.
Can Genevieve and Wolfe's friendship turn into something deeper—or is it already too late for true love?
TATS, PIERCINGS, AND BAD BOYS GONE GOOD
I love my hero, Wolfe, from
Searching for Beautiful
.
Now, let's back up. I love all my heroes. So much, that many times in bed I feel like they are lying between my husband and me, chattering in my ear and being all bad and yummy and sexy, trying to get me to write scenes THEY want. I stopped feeling guilty about this fictional cheating a long time ago.
My hubby snores right through it.
Anyhoo, back to Wolfe. I introduced Wolfe as a secondary character in my novel, The Marriage Merger. He was a bratty, pain-in-the-ass, nineteen year old boy staying with my current hero, Sawyer. I don't even know how he got there. Literally, I was writing away and suddenly, Wolfe appeared and began taking over important pieces of the story.
I became fascinated.
By the end, he'd achieved his own character arc that matched Sawyer's and I wasn't the only one hooked. My readers screamed and demanded his story. But I had a little problem. He was too young for the story I needed to write to him.
When I began my spin off series with Searching for Someday and Searching for Perfect, I was able to allow him to grow up in front of my readers. We saw him develop into a powerful man, and become a friend to Alexa's younger sister, Genevieve.
Until, finally, it was time.
The book was the biggest, most draining one I've ever written. Wolfe's past is heartbreaking. I cried while I wrote some of the scenes because they tore me apart. I cheered and hoped he would be brave and strong enough to believe he deserved a happy ever after ending. By the time I wrote The End, I was emotionally drained and felt like a husk with no corn – empty.
But my soul soared.
What is about Wolfe that intrigued me so much? My crush, Adam Levine, was my inspiration to write him. He was ridiculously brilliant and talented, but his past almost tore him apart. Wolfe survived, but at the expense of any type of emotional healthiness to hold down a romantic relationship.
Until his feelings for his best friend change everything.
Wolfe has a lot of tats. He had piercings, too, one in a very interesting place. He's a gym rat and obsessed with working out so his body is perfection. He was once a hugely successful underwear model, he's a business mogul, and one of the youngest billionaires in the world.
He wears old clothes, drinks cheap beer, and likes to golf with his friend Nate. If he walked into a bar, he'd look like any other young, sexy man hanging out for a few beers. His heart is tender, and he is fiercely loyal and protective of the ones he cares for.
Wolfe is the perfect hero for so many reasons. There is nothing more satisfying and intriguing than a bad boy, sexual king with a mushy heart hidden under all those thorns. I'll never get tired of exploring such depth in a character.
It makes for an extraoridnary love story – the only kind i like to write and read.
I hope, for my readers out there waiting so long, that this book is worth the wait.
It was for me.
Your turn. Tell me one of your fave heroes or celebrities. Pics are welcome!
a Rafflecopter giveaway
Jennifer Probst wrote her first book at twelve years old. She bound it in a folder, read it to her classmates, and hasn't stopped writing since. She took a short hiatus to get married, get pregnant, buy a house, get pregnant again, pursue a master's in English Literature, and rescue two shelter dogs. Now she is writing again.
She makes her home in Upstate New York with the whole crew. Her sons keep her active, stressed, joyous, and sad her house will never be truly clean.
She is the New York Times, USA Today, and Wall Street Journal bestselling author of sexy and erotic contemporary romance. She was thrilled her book, The Marriage Bargain, was ranked #6 on Amazon's Best Books for 2012. She loves hearing from readers. Visit her website for updates on new releases and her street team at
www.jenniferprobst.com
.
Website:
www.jenniferprobst.com
Facebook Fan Page:
https://www.facebook.com/jenniferprobst.authorpage
Twitter:
https://twitter.com/jenniferprobst
Goodreads:
https://www.goodreads.com/author/show/2965489.Jennifer_Probst