Manwhore (Manwhore #1) by Katy Evans
Adult Contemporary Romance
ARC provided by Gallery Books
Amazon
|
Nook
|
B&N Paperback
|
iBooks
|
BAM
|
IndieBound
|
Google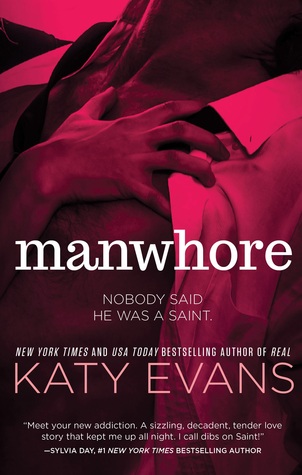 Is it possible to expose Chicago's hottest player—without getting played?
This is the story I've been waiting for all my life, and its name is Malcolm Kyle Preston Logan Saint. Don't be fooled by that last name though. There's nothing holy about the man except the hell his parties raise. The hottest entrepreneur Chicago has ever known, he's a man's man with too much money to spend and too many women vying for his attention.
Mysterious. Privileged. Legendary. His entire life he's been surrounded by the press as they dig for tidbits to see if his fairytale life is for real or all mirrors and social media lies. Since he hit the scene, his secrets have been his and his alone to keep. And that's where I come in.
Assigned to investigate Saint and reveal his elusive personality, I'm determined to make him the story that will change my career.
But I never imagined he would change my life. Bit by bit, I start to wonder if I'm the one discovering him...or if he's uncovering me.
What happens when the man they call Saint, makes you want to sin?
Just as beauty is in the eye of the beholder, a gorgeous and confident man might not be the conceited womanizer he seems to be. Rachel didn't go into her new assignment with this assumption, in fact she took on the career-launching exposé about the mysterious Malcolm Saint with the knowledge that she'd be laying out all of his dirty laundry for the world to finally see. Problem is, along the way she discovered that there was much more beneath the surface when it came to this powerful walking fantasy, and not getting swept up into his whirlwind proved damn near impossible.
Rachel was strong-willed and determined, and when it came to saving her job and the slowly dying Edge magazine, she was willing to do just about anything. That meant that when her boss gave her the assignment to expose Saint, under the guise that she was actually shedding light on his new Facebook-like venture, Rachel had to be all-in. It was the chance she needed to get her name out there and prove herself, but it was also what the magazine needed to pull it out of the grave it had one foot standing in. Rachel dove right in, worming her way into an interview with the man that so few could ever be lucky enough to even dream of spending time with. Saint was just as jaw-droppingly handsome and mesmerizing as he seemed, which meant it took a few tries for Rachel to get herself together and wipe the drool fast enough to actually get some information from the guy. Right away, there was something that drew you to him, he was like this panty-melting enigma. I couldn't wait to get to know this gorgeous man, even if it meant watching Rachel stumble her way through a few awkward moments first!
It didn't take long for Rachel's unique ability to resist Saint to intrigue him enough to turn his head. He wasn't usually the pursuer, and it was amusing to watch his friends (who, arguably, needed to grow up a bit) tease him about this thing he had started with Rachel. They both tiptoed around how attracted they were to each other, then minimalized it once they finally did something about it, as if they weren't really getting in much deeper than they expected. The more Rachel learned about Saint, though, the more obvious it became that he was actually a genuine guy with good intentions…that just happened to be insanely rich and enjoy a healthy social life! Where Rachel fit into his puzzling life, along with the dirty secret that she wasn't just writing about his new business venture, was the big question.
Saint was without a doubt one hell of a sexy MC here, and I loved all of the layers to his character that are uncovered. He's got the perfect blend of cocky, smoking hot, and tender when he needed to be, and he had great chemistry with Rachel. I actually liked Saint's personality more than I liked hers, but I chalked that up to my own personal preference. He's sure to be a top book boyfriend for many readers!!
There was definitely a sense of a ticking time bomb waiting to go off as the story went along, because of course we know that Rachel has to figure out what to do about her article and the magazine. When the truth came out and everything went spiraling, I was relieved with the way it played out even if we are left hanging for the next installment. I for one will be very anxious to get my hands on the rest of Rachel and Saint's story!!
Quotes:
"He just can't be had, not in any way that matters to him. Nobody's gotten more than just a tiny piece of Saint. Not his dad, not even his mother. No woman. Not his friends or his businesses. He spreads himself around, even in his interests. Nothing really claims him. He keeps that to himself, all that fire. He just gives you a glimpse of the spark." ~Loc 1912
"Do you waste all this energy thinking about me?" I blink.
"No," I say. "In fact, I'm super tired after just two minutes of trying to figure you out."
"Don't try to figure me out," he helpfully suggests. ~Loc 2229
I'm so scared to consider what it is. I'm so scared that he'll hurt me. I'm so scared I'll hurt hi. I suck back a quiet sob as I start coming, shaking and trembling in both excruciating pleasure and quiet internal pain. ~Loc 4534
Katy Evans is the New York Times and USA Today bestselling author of the Real series.
The first book in her adult contemporary series,
Manwhore
, is to release in March 2015.
To find more, please visit
www.katyevans.net