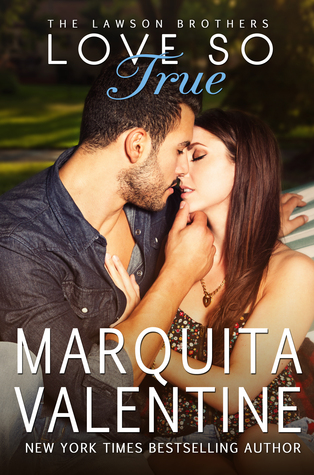 Title: Love So True (Lawsons #2)
Genre: Contemporary Romance
Release Date: January 29, 2015
Cover Designer: Lindee Robinson Photography
Single mom, Bailey Yates, has had enough of bad boys to last her the next eighteen years. She's always been a sucker for them, and Jessamine's ultimate bad boy, Lucas Lawson, is no exception for her. So, when he returns to town, naturally she's drawn to him. And naturally, she must avoid him at all costs--no matter how attracted she is to him. She'll give him a job, and keep her distance...until Lucas saves her son from a hit and run.
Finally, Lucas Lawson is a free man. After serving five years in prison for embezzlement, he's come home to Jessamine to right the wrongs he committed against his friends and family. But, it won't be easy. For starters, the brother he's looked up to his entire life wants nothing to do with him, and no one in town trusts Lucas enough to give him a chance to make amends. Until, Bailey Yates gives him a job at her family's diner.
Bailey gives Lucas a hope for the future he hasn't allowed himself to feel in years while Lucas melts Bailey's heart every time he spends time with her son. Could he be the one to put her life back together? But when Lucas is accused of stealing from a local charity, Bailey must decide to support him or realize that some men are too good to be true.
Lucas Lawson has done his time. Paid his price. After being locked up for 5 years for embezzlement he's come back home to Jessamine. He still has a lot to make up for to the citizens he stole from.

"Lucas knew he couldn't erase what he'd done to the people of Jessamine..."

Bailey Yates has a thing for the bad boy and Lucas fits that description to a T. She's a full time single mom and manages her family's diner. She's there when Lucas finally makes his way back home and notices that just maybe Lucas has changed his ways.

"Yes Lucas has done wrong while she had been done wrong, but it still hurt the same - no matter who was to blame."

Being a felon Lucas has a hard time finding a job only to have Bailey offer him one at the diner. He takes it and begins to make amends for his past sins.

He and Bailey become closer and start having feelings for each other. They both know they want each other but what about their histories? Will Lucas be able to overcome his prison record and past? Bailey had Leo, her son, out of wedlock and the father ran off; can she overcome that, as well??

"My point is that not you're defined by your past. You're not even the same guy anymore "

This book is about letting the past go, second chances, and looking forward to the future.

"Believe it. Here I am. All of me - the good, the bad....you know everything. I'm yours. Truly yours."

I absolutely loved this story. The banter and snarkiness from both Lucas and Bailey is so real and true to life. The chemistry and sexiness off the charts.

"Thanks but you've been in prison for the past five years, so your judgement about what's gorgeous is a little questionable."

I can't wait to keep tabs on them in the next books!! Although, I'm pretty sure Masons book may bring a tear to my eye.

Book provided by author for honest review.
New York Times Bestselling Author, Marquita Valentine, writes sexy heroes that make you swoon and sassy heroines that make you laugh. She's the author of the bestselling contemporary romance series, Holland Springs, and the new adult romance series, Boys of the South.

Marquita met her husband aka Hot Builder at Sonic when they were in high school. She suggests this location to all of her single friends in search of a good man—and if that doesn't work, they can console themselves with cheesy tatertots. She lives in North Carolina in a very, very small town with Hot Builder and their two children.