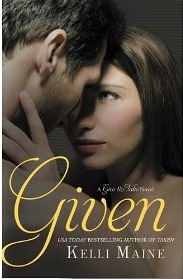 Given (Give & Take #3) by Kelli Maine
Adult Contemporary Romance
POSSESSION
For Merrick and Rachael, Turtle Tear Island has become their own private paradise with days of unimaginable bliss and sizzling nights in the bedroom-and beyond. But Rachael and Merrick's happiness is shattered when his daughter, Nadia, suddenly becomes increasingly demanding of his time and devotion. It soon becomes clear that Merrick will have to make an agonizing choice: the woman whose love saved his tortured soul or the daughter he never knew existed . . .
REVELATION
Rachael can't stand the thought of losing Merrick after everything she's sacrificed to be with him. She had thought she and Merrick were done with secrets, that the passion that burned so brightly between them had forged an unbreakable connection, but she begins to wonder if she ever really knew the man at all. Now the love they've fought so desperately to protect may not be enough to save them . . .
Just when Merrick and Rachael thought they'd seen through the worst of their problems, his family once again becomes a huge stumbling block in the way of their future. She's been through so much and seen him through the good and bad during their time together. It may not have been long, but they'd been tested and come through to the other side together. So dealing with his long-unknown daughter Nadia wanting back in his life shouldn't have been a huge obstacle for them, except for the fact that she was a conniving little bitch determined to see Rachael gone!
Nadia was really giving Rachael a run for her money now that she was in the picture and knew her dad wanted to get to know her. Rachael was rightfully untrusting of her and let Merrick know exactly what she thought of his dad and daughter possibly teaming up, so of course there was a lot of tension to work through between them. He loves Rachael with everything he has, but suddenly there's a daughter that he's desperate to get to know. He's carrying guilt over not being there for either of his kids, even though it wasn't his fault, and that was a huge factor in his actions with this installment. It clouded what was right in front of him, which was a woman who loved him dearly and had her eyes much more open and observant than his.
So here's the thing; I'm always up for some drama and heartbreak to keep things lively, but I was so frustrated for a good portion of this story. Nadia's the antagonist, so we're pretty much meant to hate her from the start, and let me say that was very easy to do. I had no love for this girl, despite Merrick's loving fatherly wish to have her in his life. The girl was clearly out to get Rachael from point A, and I wanted to throttle Merrick for being so quick to take her side blindly at every turn. It was a little monotonous watching him and Rachael fight, make up with (super-steamy) sexcapades, and then fall right back into tension again when Nadia came between them. On the one hand, it was good to see this tender fatherly side of Merrick, but it was like he was completely unwilling to see what was going on at times. I love Merrick and Rachael together, so seeing more of their romance surviving yet another test was great, but I just felt like they took five steps back before taking a step forward. Bottom line, it was a rocky road with a very unexpected twist, but it was nice to see them finally put their relationship back on track when all was said and done.
Helpless—that was how I felt. The helplessness circled the fear, stalked around it, and poked it, making it raw and sore in my chest. I wanted to take the situation and resolve it quickly, but I couldn't. ~Loc 557
A very small part of me was happy for him. I wished it was a larger part of me. There was too much suspicion left inside me from when Nadia showed up at the hotel the first time after sneaking around undetected for a week spying for Enzo. ~Loc 1384
MJ glanced over his shoulder and gave Maddie and me a leery look. Maddie smiled, encouraging him. She was a better woman than I was. If Nadia had tried to keep Merrick and me apart like she had MJ and Maddie in the past, I would be nowhere on this island with her. ~Loc 1384
Connect with Kelli Maine