We're celebrating the release of FINDING YOU by Elizabeth Lee! Check out the excerpt below and fall in love with Boone! #BooneSwoon
Title: Finding You
Author: Elizabeth Lee
Age Group: NA
Genre: Contemporary Romance
Scheduled to Release: October 7, 2013
Amazon
B&N
iTunes
Being the wild child has worked for Mallory Vandaveer for most of her life. She's the good time girl, up for anything–and everyone in her small town knows it. But when her sister came home after years of being away, long hidden secrets came out. Turns out, Mallory isn't who she thought she was. And now everything starts to feel like a lie. In order to figure out who she is she'll have to set out on a journey to find the one man who holds the answers.
Everett Boone is in hiding. Hiding from his past and the press and the demands of a career he put on hold after tragedy struck. When a young woman with secrets of her own blows into town and rents the apartment next to his, he'll have to face the past he was trying to escape in order to understand his feelings for her.
They'll both have to dig deep inside themselves to discover whether or not they're capable of being enough for one another. Finding the person you're meant to love isn't the problem. Sometimes the hardest person to find is yourself.
Mallory was the wild child sister of Whitney that we met in Escaping Me. She found out that her father wasn't her father and decided she needed to find him and meet him. But how do you tell someone "hey, I'm your kid". Well she packs up and decides to go stay with Whit and Cole and drive up to Charleston to see if she can actually make contact with Vince, her father.
Leaving the PGA circuit 3 years ago was probably the second hardest thing he'd ever done but Everett Boone had done it. He turned away from the money and the only life he'd ever known. Losing Aubrey the way he had had taken a toll on him. He decided to move to Charleston and start over as best he could.
With it being the 3rd anniversary of Aubrey's death and with that girl sitting out in front of the ironworks shop, he knew that she just had to work for a paper or magazine and was there just to get the latest scoop. So he confronted her to see what all she knew. He didn't expect to meet a feisty blue eyed blonde who took his breath away and Mallory sure as heck wasn't ready to called out by the sexy green eyes of Boone.
Coming up with a cover story had been easy enough, looking for a place to rent and a new job. That's what she told Boone when he brought her into her fathers shop. She couldn't just come out and say I'm here to find my father. So when she meets Vince about the apartment he asks her name she came up with Molly Pritchett so he wouldn't know right off who she was. She wanted to get to know him and get a feel for him before she announces "hey, I'm your kid".
She rented the apartment right next to Boone and got her a job at the local diner. She quietly asked questions about Vince but became increasingly aware of Boone. The sparks were flying. The sexual chemistry was off the charts. So when Molly offered a no strings attached sexual relationship Boone couldn't help but accept. As we all know, feelings are bound to grow in these relationships. Boone starts feeling something for her and she for him. But what happens when the truth comes out and those boundaries have been blurred?
Will Boone be able to understand the secrets and the lies? Everyone has always walked away from Mallory, what if Boone does as well when the truth comes out?
This is a hot and quick read. I love Elizabeth Lee's storytelling and this one is no exception. I just hope we get Zeke's story next :) I think he deserves one!
Favorite Quotes:
"You taste like Lucky Charms."....."you don't like Lucky Charms?"... "Oh no, I like them all right, on you though....they are even more magically delicious."
It wasn't love. It was too early for thoughts like that. This was the first stage of addiction.
"The last think you're going to be thinking about is work. Hell, I'd be surprised if you can think at all when I'm done with you."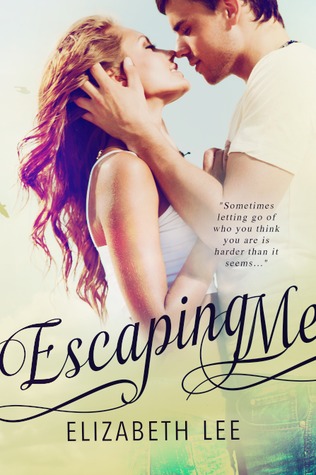 Title: Escaping Me
Author: Elizabeth Lee
Age Group: NA
Genre: Contemporary Romance
Published: July 30, 2013
All she wanted to do was forget. Forget the memory of walking in on her boyfriend in the middle of, well, another girl. Forget how she had her entire life planned out. And, forget about being perfect all the time. Unfortunately, she was Whitney Vandaveer and despite the fact that she moved to the middle of nowhere – she couldn't.
He always knew he would never be more than nothing. No job, no money, no future. Cole Pritchett had accepted the fact that he would always be the screw up and he was okay with it. Until he met her.
Here's the thing they quickly found out – sometimes we all need a little help escaping who we think we are.
Born and raised in the middle of a Midwestern cornfield (not literally, that would be weird), I've spent my entire life imagining stories. Stories where the right guy always gets the right girl, first kisses are as magical as they are on the big screen and anything is completely possible if you believe.
Although this journey began years ago, it recently took on a whole new life. After years of devouring hundreds of Romance, YA and New Adult novels, I had an epiphany... I should write a book. And I did it!
If I'm not reading, writing, enjoying drinks with my amazing group of girlfriends or chasing around a sarcastically funny kid, I'm probably watching television shows that were created for teenagers, while my husband teases that I'm too old to watch them.
Connect with Elizabeth: