ALEX
Cold Fury Hockey Series
New Adult Contemporary
Released October 14, 2014
Published by LoveSwept (Random House)
Amazon
|
Barnes and Noble
|
Kobo
|
iBooks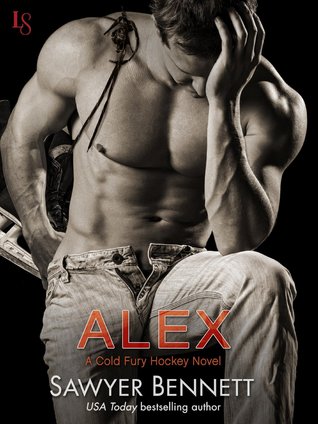 Hockey star Alexander Crossman has a reputation as a cold-hearted player on and off the rink. Pushed into the sport by an alcoholic father, Alex isn't afraid to give fans the proverbial middle finger, relishing his role as the MVP they love to hate. Management, however, isn't so amused. Now Alex has a choice: fix his public image through community service or ride the bench. But Alex refuses to be molded into the Carolina Cold Fury poster boy . . . not even by a tempting redhead with killer curves.
As a social worker, Sutton Price is accustomed to difficult people—like Alex, who's been assigned to help her create a drug-abuse awareness program for at-risk youth as part of the team's effort to clean up his image. What she doesn't expect is the arrogant smirk from his perfect lips to stir her most heated fantasies. But Sutton isn't one to cross professional boundaries—and besides, Alex doesn't do relationships . . . or does he? The more she sees behind Alex's bad-boy façade, the more Sutton craves the man she uncovers.
When I read a book synopsis, I look for something that grabs my attention. Sure, a good cover helps, but I want to be pulled in. The very first word in this blurb is Hockey. That's all it took for me to be interested. I know that might sound silly, but I have a weakness for athletes. In particular, baseball and hockey players. Not only that, but I was looking forward to a new series from Bennett. She writes good athletes, so I was anxious to get my hands on Alex.
So, here's what I learned when I dove in. I wasn't sure I was going to like Alex all that much. When I first met him, he came across gruff, tough, and quite frankly, full of himself. Not long after, I figured out that Alex was going to be pretty great. And I was right. Alex is at the top of his game, but he's not really enjoying his success. His career reaches a break point when the team administration wants to see more of him than just scoring. This brings him to Sutton Price.
Like Alex, I wasn't sure I was going to like Sutton right away. I thought she was going to be some mousy type of girl that was going to let this big, broody guy walk all over her. I was pretty darn wrong. The thing about Sutton is that she's kind, patient, generous, and empathetic. Those qualities can sometimes be seen as a weakness, but I saw her as strong. Like Alex, she's overcome some pretty difficult circumstances in her life, but instead of it making her bitter and resentful, she's turned it into something positive. That's what I loved about her the most. And Alex did too. She pulled him out of a lonely life and helped him appreciate the good things he did have. Including his career.
I want to mention the supporting characters since this is a series. Sometimes I meet some and think "I'm not so sure about that one..." and sometimes I am wrong. I'll say that the supporting cast I've met so far, I'm definitely looking forward to. Especially Garrett, and lucky for me his book is next!
Overall, I loved this book. I would have read it in one sitting, but I had to break it up. But, I thought about it when I wasn't reading and I felt anxious to get back to it. Those are signs of a good book for me. I loved Alex and Sutton as a couple. I felt like they complimented each other well. I also just simply loved the feel of this new series. It gave me a similar fuzzy feeling like I had when I read the OFF Series. I loved all of those boys and I have a feeling the men of Cold Fury are going to be pretty great! Definitely check it out!
a Rafflecopter giveaway
USA Today Best-Selling author, Sawyer Bennett, is a snarky southern woman and reformed trial lawyer who decided to finally start putting on paper all of the stories that were floating in her head. She is married to a mobster (well, a market researcher) and they have two big, furry dogs who hog the bed. Sawyer would like to report she doesn't have many weaknesses but can be bribed with a nominal amount of milk chocolate.
Website | Facebook | Twitter