Damaged Goods (The Outsider Chronicles #2) by Nicole Williams-NA Contemporary Romance
Kindle format given by author for review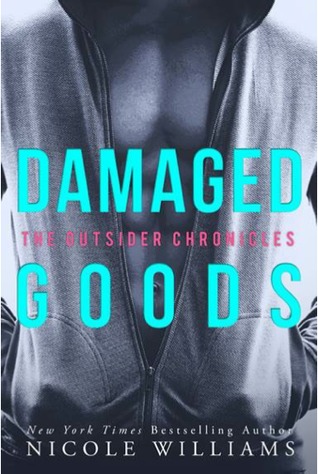 When Liv Bennett said good-bye to her sinkhole of a hometown, she planned to leave that chapter of her life behind forever. But forever turned out to only be three years.
After her addict of a mother up and disappears, Liv returns to what she considers her own personal hell smack in the middle of nowhere Nevada to take care of her two younger sisters, and she promptly reinstitutes the golden rule that got her through her first nineteen years of life without getting knocked up, roughed up, or messed up: don't date the local boys and, god forbid, don't fall in love with one of them.
It isn't long before that golden rule is put to the test.
Will Goods grew up in the next trailer over, but the wild, careless boy who used to tear up the town with his three brothers has morphed into someone else so completely, he's almost unrecognizable. The quiet, contemplative man who works on cars every night and takes care of his mentally ill mother every day is nothing like the local boys Liv grew up avoiding.
But when Liv considers suspending her golden rule just this once, she finds out something about Will that will change everything.
Will Goods isn't who he used to be—he's not even the man Liv thinks she's gotten to know over the summer. He's become someone else entirely.
He's become . . .
Damaged Goods.
It's been while since I've read a Williams book and Hard Knox and Damaged Goods reminded me why I became a fan. In Damaged Goods, we have two characters who come from a similar background, or at least from the same kind of home...who both wanted something more, something better. But, as life goes, both are forced to return home to pick up some shattered pieces of their pasts.
What worked for me:
~I admired Liv's drive. She's focused on making her life better and she's worked hard to move forward.
~Liv is dedicated to her family. Despite her own goals, she still takes responsibility for her two younger sisters. She supports them both emotionally and financially. She even leaves her life behind for a while to return home in order to take care of them, since their own mother abandon them.
~I loved...loved...Will. I'm really into good guy character's making me all swoony lately and Will is all that and more. Will has his own story and his own reasons for being home. I loved discovering Will's character. Just when I thought I had him figured out, he surprised me.
~Liv's character was stronger with Will by her side. He is a true support for her and I felt they made each other stronger.
~The steamy scenes really worked for me. Williams can bring on the heat and these two were definitely hot!
What didn't work for me:
~There really wasn't a whole lot that didn't truly work for me. I suppose if I were to get nit picky, I would have liked some loose ends tied up a bit more cleanly. Like, what exactly happened to their mother? Did Liv have to get anything in place legally before she took them out of the state? Perhaps I missed some of those details and it really didn't affect the likability of the story for me, but they are little things that I thought about after.
Overall, I really enjoyed Damaged Goods. It made me feel...well...good. I had a smile on my face when it ended and really, that's the goal, right?
*Damaged Goods can be read as a stand alone. I hear that a lot when books are part of a series, but this one truly can be a stand alone.
Quotes:
~"Segues are for people who aren't trying to chase a real-life Cinderella. Segues are for people who get more than fleeting moments with the person they need to discuss something of importance with."
....
"Oh, well. That's okay. I know when to cut my losses and be happy with an abandon glass slipper. Maybe next time I'll have time to make one of those segues you seem to think I'm incapable of.
~"I'm a man of commitment and resolve. I don't let anything, five or six or seven-or I think I actually counted eight-climaxes included, detour me for too long or far."
I'm a wife, a mom, a writer. I started writing because I loved it and I'm still writing because I love it. I write young adult because I still believe in true love, kindred spirits, and happy endings. Here's to staying young at heart *raises champagne glass* . . . care to join me?
Nicole loves hearing from her readers. You can contact her at nwilliamsbooks@gmail.com.