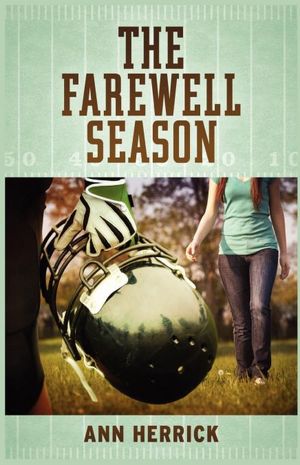 The Farewell Season by Ann Herrick-YA Contemporary
Kindle format given by author for review
Summary:
Eric used to think he'd live forever, but not any more. As football season starts, he hopes he can live normally again after the death of his father, but his refusal to face his grief results in anger at his coach, fights with his sister, resenting added responsibilities, and disillusionment with football. It takes a special relationship with a girl dealing with the divorce of her parents to see he is angry with his father for dying and the way to get through grief is by grieving.
My Take:
The Farewell Season is a story about a boy dealing with the loss of his father. Eric is struggling with his emotions and can't seem to find the right outlet. He's at the beginning of his senior year and his last football season, but he can't seem to be excited about it. Not only is he acting out on his coach and teammates, but he's fighting with his younger sister, his best friend, and broke up with his girlfriend. He won't open up to his mother either. Then, Glynnie enters his life. She's a quirky newspaper writer, who wants to interview Eric at the start of the season. Glynnie is also dealing with some family drama and she finds herself opening up to Eric. As they get to know each other better, they find that they are both dealing with loss, just different circumstances. Eric begins to find some peace after the time he's spent with Glynnie. Once the season begins, Eric feels like he is able to move forward and appreciate where he is and the people in his life.
This book was beautifully written. There were moments that I laughed, got frustrated, and cried, but mostly I felt hopeful that this boy and this girl would be able to comfort each other and begin to heal. Although the story isn't heavy on romance, Eric and Glynnie do begin to date. I found the romance sweet and endearing. If you're looking for a tender hearted book, this is a great story for you.